You are the one you've been waiting for. Byron Katie
Shoucha is here for your personal Yoga journey.
Come sit in silent meditation.  Come sit in community.
---
 

Introductory offer

 - 2 weeks for $20 unlimited yoga & meditation !! Buy Now
---
Shoucha T-Shirts

 
Many Shoucha yogis have requested Shoucha T-s. Because Shoucha is not a retail business, T's cannot be sold here but there is a solution !!
Buy your own T-shirt - any size, color style that you desire.
Bring your T-shirt to Shoucha by Oct 21 - T-s will be taken to Smiley Dyes in Lombard to be silk-screened with the Shoucha name (white ink). The cost of the printing will depend on the number of requests ($6.70 or $5.10 per T). Printing cost will be collected when you pick up your shirt.
---
 2016 Coming Events
All Sundays, 11:15-12:30pm - Kundalini yoga - A yoga utilizing mudra, posture/movement, breath and meditation to awaken the Kudalini energy - the primal energy at the base of the  spine, allowing it to rise and move you to a higher state of consciousness.
November 9, 6:30-8pm - Restorative Yoga - Enjoy a mid-week post-election relaxation as your body opens into the deep fascia. Restorative postures are fully supported using straps, blankets and bolsters allowing for deep release.  Sign up here
November 17, 7:45-8:45pm - Yoga Nidra - Come experience the yogic sleep state.   You will be brought to and maintained in a relaxation state which brings you to a deep state of meditation. Sign up here
October 16 - FREE Gentle Yoga class with food donation for the Lombard-Villa Park Food Pantry -  At 3:00pm enjoy a 60min heart-centered Gentle yoga on this Sunday. Please bring a non-perishable food donation for the food pantry. Suggested items: cereal, canned spaghetti/chili, tuna, pasta (preferably no whole wheat), pasta mixes (mac n' cheese, etc), canned corn, peas, fruit.   Sign up here !
---
Ongoing Specialized Classes !
Prenatal yoga - Join Melissa Angland on Wed evenings for her gentle yoga class, designed with much love and care to also allow expecting mothers to attend allowing the practice to bring love, care, and nurturing to yourself and your baby. You will be cued through a very slow and gentle practice with modifications for expecting mothers. It will be encouraged, as always, that you listen to your body and be mindful of the breath to movement aspect of your personal practice. This sequence is also great for new and advanced yogi's.
Yoga Body Bootcamp: Sat & Sun 9:45am - Cardio + Yoga in one !  Read more here.                       
---
 Arrival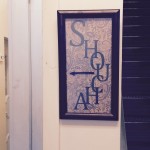 Please enter through the door to the right of the 11 N Main St door then enter through "TV Video Repair" door. There are hooks, benches and cubby holes for your coats and shoes. Your valuables can be taken into the studio.  Doors are open 15 min before class start.
First time participants, please arrive 10 min early for necessary forms.
Please be mindful and be on time as the door is locked 5 min before class begins.
Please bring your own yoga mat and water for both posture and meditation classes.  Mats are available for rent ($1.00) if one is needed.