Kindness to others favors a nervous system that is kind to itself. Eknath Eswaran
Shoucha is here for your personal Yoga journey.
Come sit in silent meditation.  Come sit in community.
---
 

Introductory offer

 - 2 weeks for $20 unlimited yoga & meditation !! Buy Now
---
2017 May schedule changes effective May 1:

 
Time Change:  Mon & Wed 2:30pm class is moved to 5:30pm for 1hr
Studio closed for Memorial Day - Sun and Mon, May 28 and 29
---
 2017 Coming Events
Restorative Yoga - Enjoy a mid-week post-election relaxation as your body opens into the deep fascia. Restorative postures are fully supported using straps, blankets and bolsters allowing for deep release. Another coming soon!
May 21, 2:45-3:45pm - Yoga Nidra - Enjoy the benefits of a deep meditative state. Let Yoga Nidra cleanse your Mind and Soul. Join us on Sunday, May 21 from 2:45-3:45pm. This event is open to all.  Sign up here
---
Ongoing Specialized Classes !
Prenatal yoga - Expecting mothers are welcome any gentle yoga class. With 26hrs of Yoga Alliance sanctioned prenatal training, Vicki Kaiser will assist on posture adjustments for a safe practice allowing you to continue your practice in any class setting.  It will be encouraged, as always, that you listen to your body and be mindful of the breath to movement aspect of your personal practice.
Yoga Body Bootcamp: Sat 9:45am - Cardio + Yoga in one !  Vicki Kaiser is certified VickiK_ybb in this amazing system created by Deborah Williamson. Read more here.                       
---
 Arrival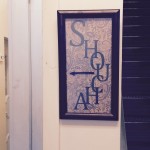 Please enter through the door to the right of the 11 N Main St door then enter through "TV Video Repair" door. There are hooks, benches and cubby holes for your coats and shoes. Your valuables can be taken into the studio.  Doors are open 15 min before class start.
First time participants, please arrive 10 min early for necessary forms.
Please be mindful and be on time as the door is locked 5 min before class begins.
Please bring your own yoga mat and water for both posture and meditation classes.  Mats are available for rent ($1.00) if one is needed.